Navigation Buoys

Ø3000mm Seagull Navigation Buoys
The SG3000 Navigation buoy has a large visual daymark with a nominal focal height of 4-6m.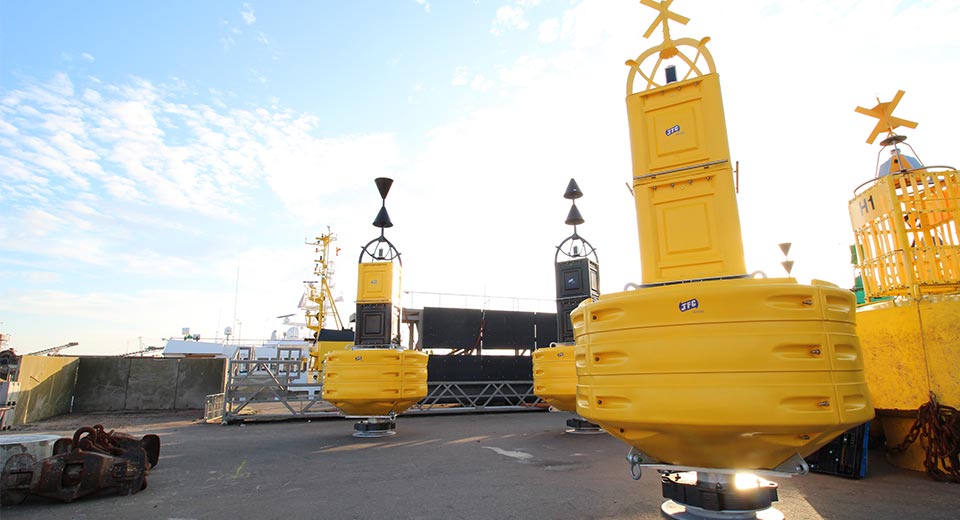 Ø3000 Seagull Navigation Buoys


















The Seagull buoy range is a modular design with a unique central core steel arrangement connecting the lifting eyes to the mooring eyes for superior strength and durability. The buoy is manufactured using marine grade (UV Stabilised) polyethylene material.
The central core design includes four mooring eyes fitted with a unique replaceable bushing system, extending the operational life of the buoy. The use of a twin bridal mooring provides greater stability and mooring flexibility when used in locations with fast water currents. The centre core is fitted with four lifting eyes for ease of manoeuvrability during installation or servicing.
Available in all the IALA recommended colours and configurations with optional daymark cone or can shape.
Description
Ø3000mm Seagull Navigation Buoy
---
Diameter
Ø3000mm
---
Nominal Focal Height
4000 up to 6000mm
---
Nominal Height
6800 up to 9300mm
---
Nominal Draft
1400mm
---
Nominal Weight
3100kg
---
Top Marks
In accordance with IALA Maritime Buoyage System
---
Colours
In accordance with IALA Maritime Buoyage System
---
Life Expectancy
Up to 20 Years
---
Lantern Options
Self-Contained Lanterns, Lantern only option on request
| | | |
| --- | --- | --- |
| Daymark Code | Description | Nominal Focal Height |
| DM1 | 1 Polyethylene section & 1 x Crow's Nest | 4000mm |
| DM2 | 2 Polyethylene sections & 1 x Crow's Nest | 5100mm |
| DM5 | 2 Polyethylene sections & Safety Rail | 4000mm |
| Lattice | Lattice Steel Structure 2 Sections | 4000 – 6000mm |